Prepare for what's next with a FinPath 403(b) Plan
Begin your journey to financial independence with low-fee, high-quality 403(b) plans.
ENROLL NOW
LEARN MORE
Outperform Retirement with FinPath 403(b)
Low 403(b) Plan Fees
Part of our committment to full transparency means clearly stating plan fees
Quality Investments
Decades of experience help us deliver strategic investment options
Fiduciary Protection
Our team of investment professionals work diligently on your behalf
24/7 Online Access
All your account information is available with just a few clicks
Financial Stress in America
Does thinking about your current financial situation make you feel uneasy? Have you created plan for life beyond your working years?
If you avoid thinking about these questions, it's likely you are facing financial stress like the majority of Americans. The time to do something about is here.
The key to achieving financial success is contributing to a savings plan now and continuing to contribute on a regular basis.
Close the gap between your state pension and the income you need to keep living your life
Pre-tax contributions can bring tax savings and can allow higher investment growth
Contributions are convenient through automatic payroll deposits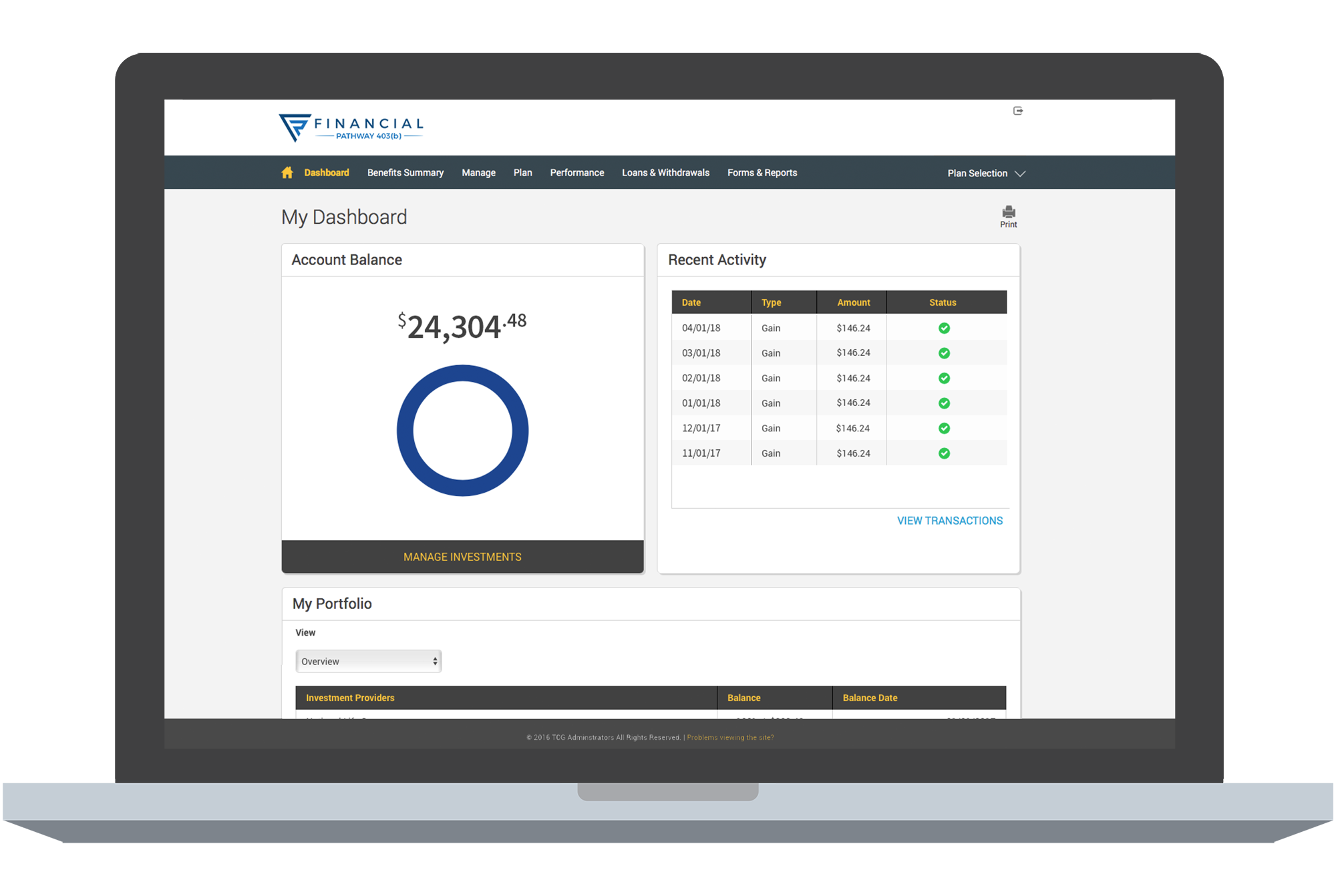 Follow our video guide that shows how you can enroll in a 403(b) plan as a new participant.
ENROLL IN A 403(b) PLAN TODAY!
900 S Capital of Texas Hwy
Suite 350
Austin, TX 78746
Customer Service: (800) 943-9179
Fax: (888) 989-9247
Business Hours: Monday through Friday, 8AM - 7PM CST
Investment advisory services offered through TCG Advisors, an SEC registered investment advisor. Insurance Services offered through HUB International. Recordkeeper and Third Party Administrator services offered through TCG Administrators, a HUB International Company. 
HUB International, owns and operates several other entities which provide various services to employers and individuals across the U.S.
This website is not authorized for use as an offer of sale or a solicitation of an offer to purchase investments. This website is for informational purposes only and does not constitute an offer to sell, a solicitation to buy, or a recommendation for any security, or as an offer to provide advisory or other services in any jurisdiction in which such offer, solicitation, purchase or sale would be unlawful under the securities laws of such jurisdiction.
Past performance may not be indicative of any future results. No current or prospective client should assume that the future performance of any investment or investment strategy referenced directly or indirectly in this brochure will perform in the same manner in the future. Different types of investments and investment strategies involve varying degrees of risk—all investing involves risk—and may experience positive or negative growth. Nothing in this brochure should be construed as guaranteeing any investment performance.
This website may contain forward-looking statements and projections that are based on our current beliefs and assumptions on information currently available that we believe to be reasonable; however, such statements necessarily involve risks, uncertainties, and assumptions, and prospective investors may not put undue reliance on any of these statements.